RHM & VICO Music of the World: Concert Series
Silk Road Music – Chinese and Latin Musical Explorations: Intercultural trio
Featuring: Qiu Xia He – pipa, Andre Thibault – guitar, Phil Belanger – percussion
Hosted by: Moshe Denburg , VICO Founding Artistic Director
July 16
@
4:00 PM
–
6:00 PM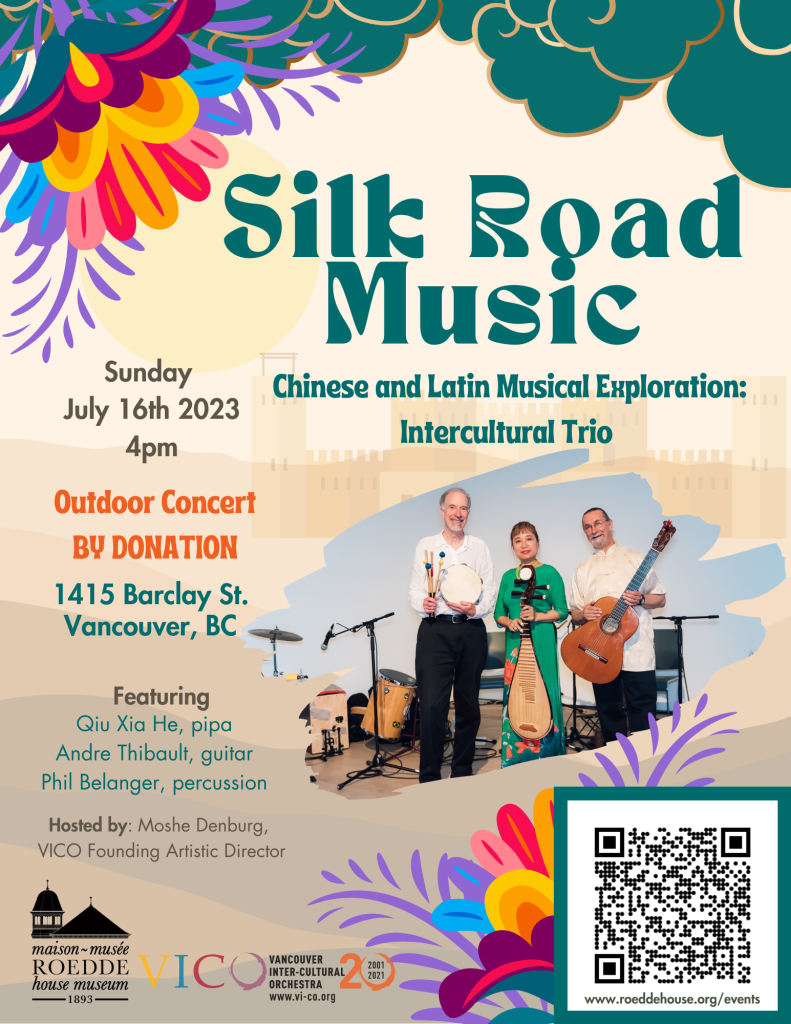 Vancouver Inter-Cultural Orchestra and Roedde House Museum is pleased to present Silk Road Music – a Chinese and Latin musical exploration with spicy rhythms and funky pipa, this fusion of traditional and contemporary world music all set to a danceable percussive groove is music that sounds like Vancouver looks! The Silk Road Music ensemble has been wowing Vancouver audiences for 30 plus years with their passionate commitment, refreshing sounds performed sunny side up!! Come and enjoy this afternoon outdoors! The performers will be on the side porch of Roedde House Museum which faces the lawn space of Barclay Heritage Square Park. Donations collected will go towards the continuation of our programming and directly supports the artists we engage.
MORE ABOUT THE FEATURED ENSEMBLES
SILK ROAD MUSIC
As recently as the mid-1990s, stereotypes of Chinese music as atonal and inaccessible dominated "mainstream" North Americans' perceptions of this country's sound. The idea of blending Chinese music with popular Western styles was seen as absurd, if not impossible. Silk Road Music changed all that. The ensemble pioneered the kind of Chinese-Western musical fusions that one now hears in acts ranging from The Sparrow Quartet to Yo Yo Ma's Silk Road project.
At the heart of Silk Road Music is the unstoppable artistic vision of its founder, Qiu Xia He, a one-time music teacher at China's Xian Academy of Music and professional pipa player with the Shaanxi Music and Dance troupe. While performing with the ensemble at the Vancouver Folk Music Festival, she made the dramatic decision to stay in Canada, and was welcomed in by a household of Irish musicians on Hornby Island. It was there that the seeds of her extraordinary cross-cultural musical experimentations were planted.
Qiu Xia founded Silk Road Music in 1991 with two other B.C.-based Chinese musicians: erhu player Shirley Yuan and zheng player Li Zhou, later replaced by ruan player Zhimin Yu. From the very beginning, the goal was to create a new musical hybrid born of its members' dual experiences in China and Canada. The ensemble blended Chinese folk and classical music with Celtic, Latin, Arabic, Aboriginal, jazz, and blues music. It developed two exciting educational programs to bring world music to school children, and in 2001, it created a groundbreaking recording and performance project that paired Chinese and European-Canadian vocalists for bilingual duets of Chinese folk songs. Along the way, the group earned a Juno nomination, two West Coast Music Awards, two Canadian Folk Music Award nominations, and countless enthusiastic reviews. www.silkroadmusic.ca
VANCOUVER INTER-CULTURAL ORCHESTRA (VICO)
The Vancouver Inter-Cultural Orchestra (VICO), founded in 2001, was one of the first concert orchestras devoted specifically to performing new intercultural music on a grand scale. It is currently one of only a handful of such professional ensembles that exist in the world. The VICO brings together musicians and composers from many cultural and artistic communities in the Greater Vancouver area, including Chinese, Taiwanese, Japanese, Indian, Persian (Iranian), Latin and South American, Vietnamese, African, North American and European to create what has been described as "the United Nations of Music" (CBC Radio), and "music that sounds like Vancouver looks" (The Georgia Straight). The Vancouver Sun has called VICO "a world music super-group."
VICO strives to be a fresh and relevant voice in the contemporary music of our city, our province and our country. The ensemble builds bridges of imagination, approaching diversity as a fascinating challenge and a creative call to action. Its work is to make connections, between performers and audiences of all ages and backgrounds, across the Lower Mainland, throughout Canada and the world; to create and perform orchestral music that transcends boundaries: cultural, social, political, geographical. Since its inaugural performance in 2001, VICO has developed and performed over 50 new intercultural pieces by ground-breaking Canadian composers. www.vi-co.org
DONATE:
Support of the series is greatly appreciated, either through one-time, monthly, or annual donations. You can do so by donating HERE.