Our Mission
Preserving the Past for the Future
The Roedde House Preservation Society is dedicated to the preserving, maintaining and enhancing of the Roedde House Museum and to presenting heritage exhibits and programs reflecting the early history of Vancouver for the benefit and enjoyment of present and future generations.
Since the Museum's official opening in May, 1990, the Roedde House Preservation Society has run Roedde House as a threefold facility:
a museum with guided tours, including an active schools program,
a venue for music and other cultural entertainment,
a rental facility for small receptions and artistic projects.
The planning, coordination and overall management is carried out by the Board of Directors and the House Manager. The planning, coordination and overall management is carried out by the Board of Directors and the House Manager. Financial support comes from grants, and revenue from rentals, donations, admission and membership fees. Specific projects have been possible with the help of foundations and private sector funding.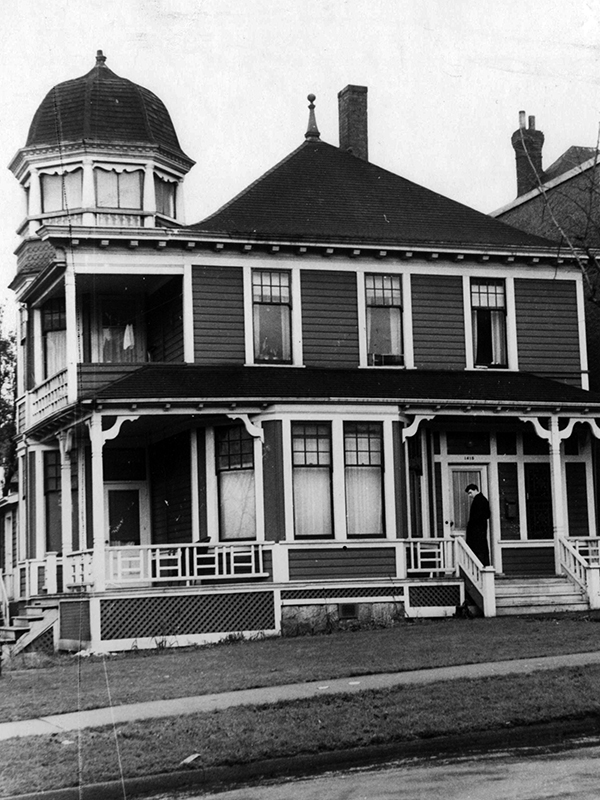 Our History
Roedde House was built for Gustav and Matilda Roedde who moved in, in 1893. Its design is attributed to the famed B.C. architect, Francis Rattenbury, notable for the Legislative Buildings and Empress Hotel in Victoria. The architectural style is "Queen Anne revival", incorporating a cupola, bay windows, upstairs porch, and downstairs verandas.
At the urging of the Community Arts Council of Vancouver, the house was designated a "heritage building" in 1976. In the early 1980s the City, with the assistance of the Heritage Canada Foundation and the B.C. Heritage Trust, restored the exterior of the house. In 1984 the Roedde House Preservation Society was formed to implement the interior restoration of the house.
Work on the interior was painstaking, with faithful attention to detail gleaned from historical records, from consultation with surviving members of the Roedde family and from the process of stripping paint and wallpaper from century-old walls to discover the original colours and finishings. The downstairs of the house was then authentically furnished with all the accoutrements of middle-class life in the 1890s. In March of 2000 the restoration of the second floor of the Museum, comprising boys' and girls' bedrooms, and Matilda's sewing room, further enhanced the portrayal of turn-of-the-century family life.
The restoration of the house at 1415 Barclay street can be followed in the House Restoration story.