RHM & VICO Music of the World: Concert Series
Sounds from Far Away – Japanese Traditional Instruments
Featuring: Reison Kuroda – shakuhachi, Miyama McQueen-Tokita – koto, Naomi Sato – sho
Hosted by: Rita Ueda, Vancouver Composer, Canada Council Jules Legere Prize Winner 2022
November 16
@
7:00 PM
–
9:00 PM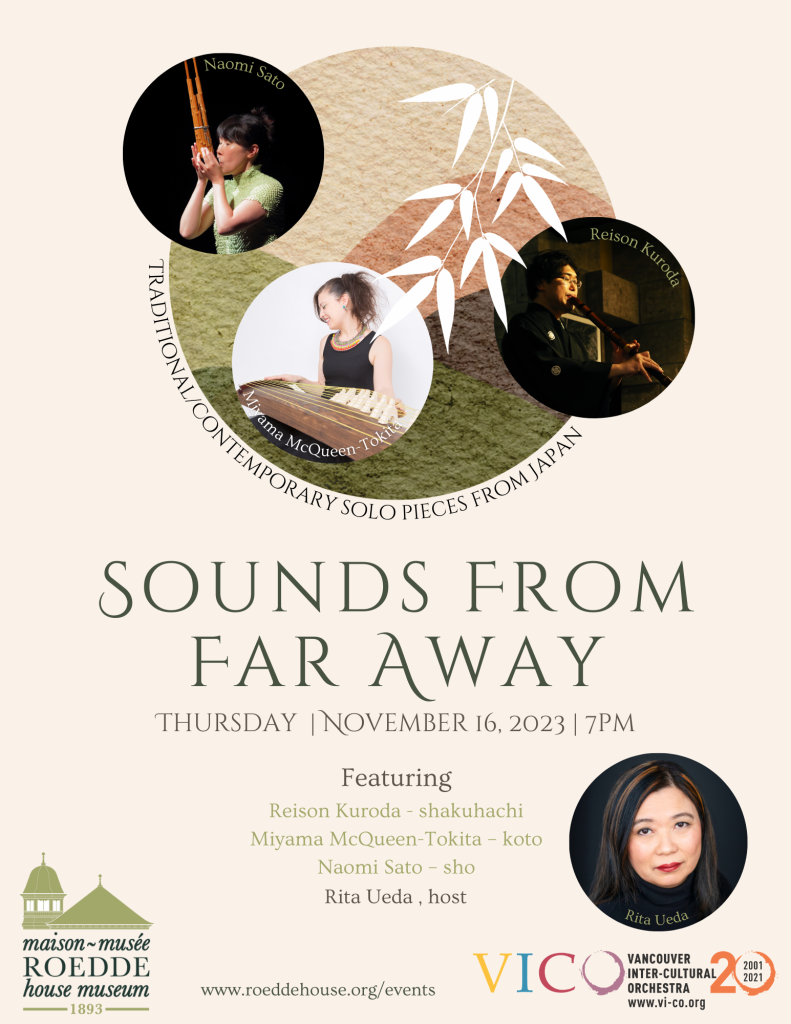 RHM & VICO Music of the World: Concert Series
Sounds from Far Away – Japanese Traditional Instruments
Roedde House Museum and Vancouver Inter-Cultural Orchestra is pleased to present "Sounds from Far Away" with visiting artists from Japan performing on virtually unchanged instruments from circa 700 AD – the sho (reed mouth organ), koto (13 string table harp) and shakuhachi (bamboo flute).
This one night only concert is an aural feast of Japanese music both traditional and contemporary. The meditative sparse natural sounds of silk strings and bamboo reeds make a representative display of peacefulness, focus, and precision. The concert will be hosted by Vancouver composer Rita Ueda, Canada Council Jules Legere Prize Winner 2022.
Join us in this unique intimate experience of chamber music in the Roedde House Parlour and enjoy a light refreshment in our dining room after for a cosy autumn evening.
MORE ABOUT THE FEATURED ARTISTS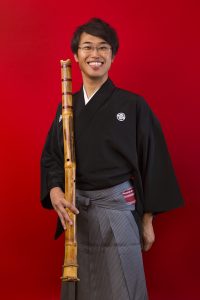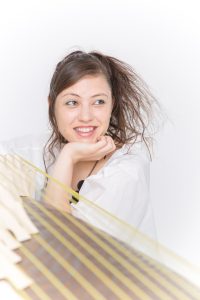 VANCOUVER INTER-CULTURAL ORCHESTRA (VICO)
The Vancouver Inter-Cultural Orchestra (VICO), founded in 2001, was one of the first concert orchestras devoted specifically to performing new intercultural music on a grand scale. It is currently one of only a handful of such professional ensembles that exist in the world. The VICO brings together musicians and composers from many cultural and artistic communities in the Greater Vancouver area, including Chinese, Taiwanese, Japanese, Indian, Persian (Iranian), Latin and South American, Vietnamese, African, North American and European to create what has been described as "the United Nations of Music" (CBC Radio), and "music that sounds like Vancouver looks" (The Georgia Straight). The Vancouver Sun has called VICO "a world music super-group."
VICO strives to be a fresh and relevant voice in the contemporary music of our city, our province and our country. The ensemble builds bridges of imagination, approaching diversity as a fascinating challenge and a creative call to action. Its work is to make connections, between performers and audiences of all ages and backgrounds, across the Lower Mainland, throughout Canada and the world; to create and perform orchestral music that transcends boundaries: cultural, social, political, geographical. Since its inaugural performance in 2001, VICO has developed and performed over 50 new intercultural pieces by ground-breaking Canadian composers. www.vi-co.org
DONATE:
Support of the series is greatly appreciated, either through one-time, monthly, or annual donations. You can do so by donating HERE.