Research showed that this part of the House was an addition at a later date. It possibly was a summer sleeping porch which was closed in at the same time as the dining room was refurbished after the fire of 1913. From family histories, we know that this was Gustav's private place where he smoked his pipe, listened to classical music, played his Victrola and bathed his St. Bernard dogs in a large tin tub.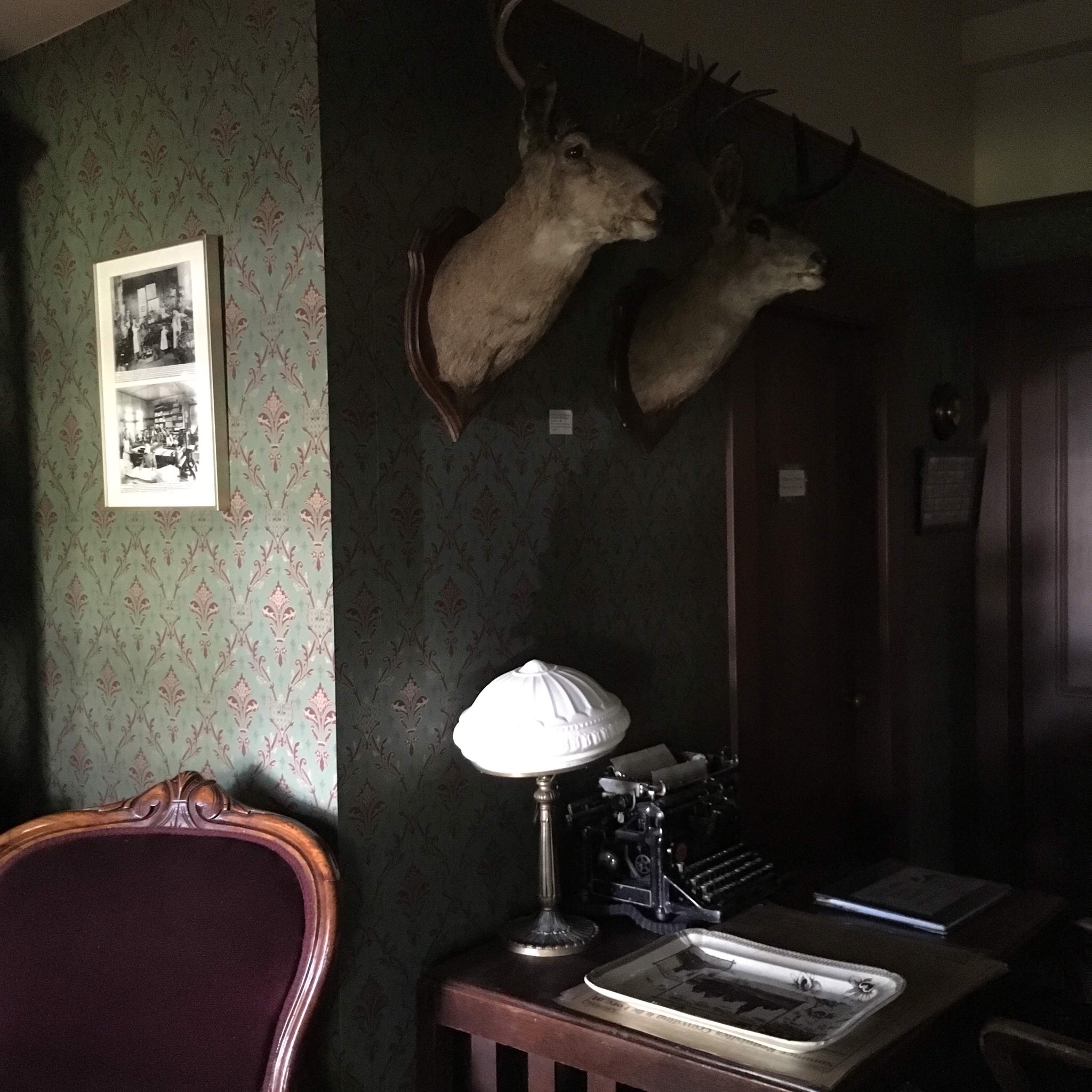 This room now functions as archival and small exhibit space. The Roedde House Preservation Society stores historical records in the lower cupboards. We invite you to peruse the three binders on display, which show the extent and depth of work that was undertaken to restore this heritage house.
The wall showcase holds samples of original wallpapers and other objects discovered during the restoration. On the wall opposite, are interior views of G.A. Roedde (Printers) Ltd., one of the oldest commercial firms active in this province although no longer in family hands.
Photo 1: An Edison Amberola- a cylinder playing phonograph with trademark Edison Blue Amberol Records (each cylinder being about 4-min long). Gustav enjoyed listening to operas in the Den.
Photo 2: Gustav made music book covers for his daughters, including this one for Emma. Emma Matilda (1886-1960) lived at the Roedde residence with her parents when her husband was away during WWI. Her children, Emma Gwendolyn (Gwen) and Kathleen Francis (Kay) have memories of the home during this period.
Photo 3: Easter eggs made by Gustav for granddaughters Gwen and Kathleen, each containing a small Frozen Charlotte doll. The older girls received eggs with perfume inside.
Slide 1: Photos of G.A. Roedde (Printers) Ltd. – can you find Gustav and his St. Bernard dog?
Slide 2: 1983 photograph of Barclay Heritage Square (Park site 19) – just before the removal of chosen buildings and the restoration of the nine remaining houses surrounded by landscaping, which became "A West End Park with Houses".