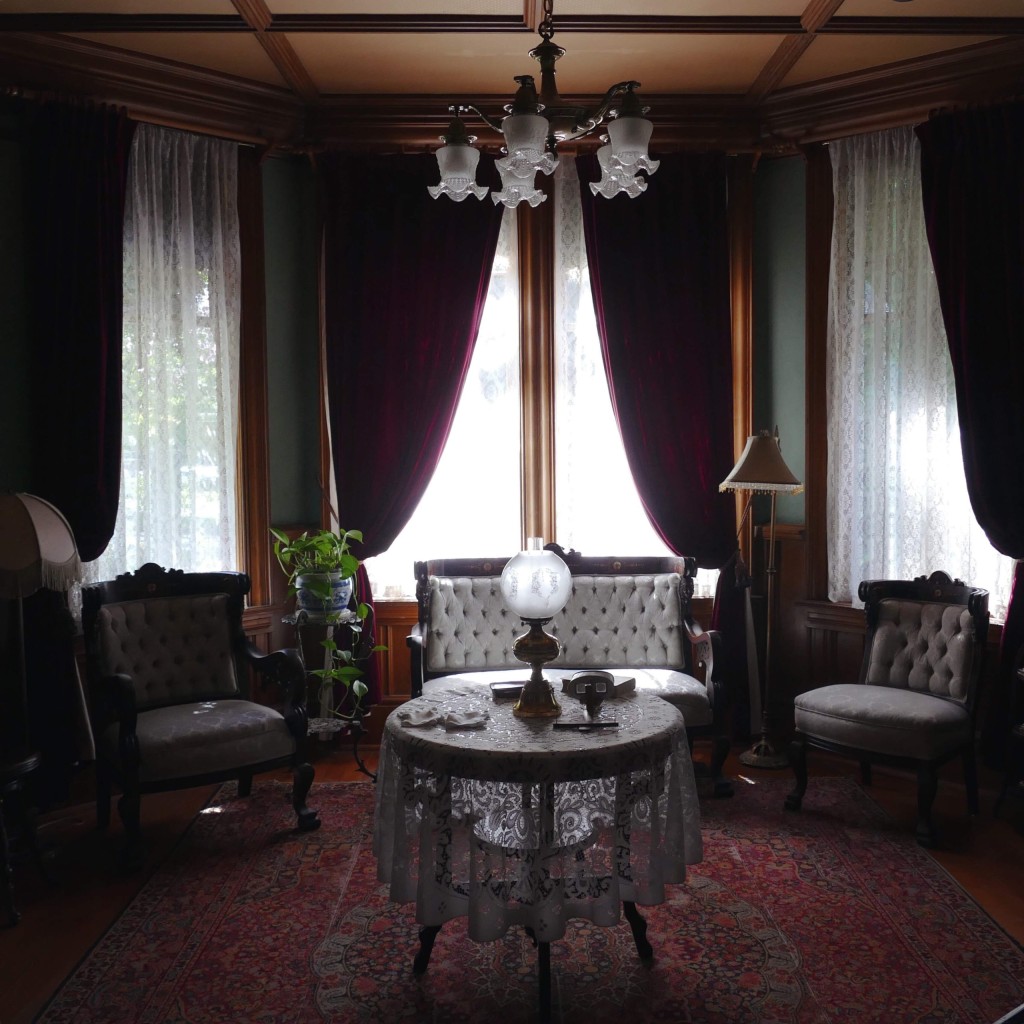 The Parlour was the "best" room in the House and used for entertaining (viewing of scrapbooks, poetry readings, acting games, singing around the piano, etc. were popular pastimes during this period). Like the Front Entrance hall, the Parlour matched the cedar paneling and turquoise wall colouring and layers of paint were painstakingly removed during the restoration process. The octagonal shape and 10 ft ceiling results in outstanding acoustics.
This room, as well as the other restored rooms, is furnished with items in keeping with the period 1893 to 1925. The mahogany sheet music cabinet and the spelter lamp on the piano were Roedde family possessions. The other furnishings were purchased, donated or are on loan.
Slide 1: Late 19thC French curio cabinet – features changing displays illustrating Vancouver's past.
Slide 2: Spelter lamp (original ot the Home) of Persephone – Greek goddess of Spring, after a bronze by Auguste Moreau (1834-1917).
Slide 3: Original mahogany music cabinet owned by the Roedde Family, sitting in almost the exact same location as it did a hundred years ago. The family eventually cut the legs shorter so it could serve as a bedside table.
Slide 4: Cedar fireplace and mantel – a remnant from an early house in Vancouver's Fairview Slopes. The hearth tiles are original to Roedde House. The small coal fire helped warm the Parlour.
Slide 1: The Stereopticon photo card viewer – flat images become three dimensional when viewed. This was a popular source of entertainment in the 19th Century.
Slide 2: The Steinway upright grand piano, circa 1893 – of concert caliber. This piano stands exactly where the Roeddes Heintzman upright piano once stood, and is used regularly for concerts. The Roeddes were music lovers and the children were allowed in the usually off-limits parlour to practice lessons on the piano.
Slide 3: Craftsmanship in the cedar coffered ceiling and wainscoting. The parlour and the entrance are the only rooms with these ceilings as they would have been regularly seen by guests and the sophisticated detail would have given one the impression that the rest of the home's ceilings were also embellished with such expense.